The Thankful Healthy Blogger (Virtual) 5K
Via Twitter I stumbled across a blog,
A Journey to Thin
. I loved the idea she had to motivate folks to get up and move on Thanksgiving. Not everyone is up to walking, or even running a official 5K or 10K, but that doesn't mean folks can't get up and move at their own pace -- so I really appreciate the premise.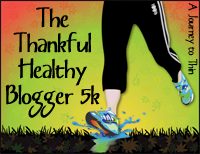 All you have to do is run or walk a 5K on Thanksgiving. That's just 3.1 miles, or an hour of easy-paced walking. Heck! You'll do more than that shopping on Black Friday! Check the details out in her blog (click the badge), because there's also a giveaway associated with this virtual race. :)
I'm actually running a 10K for Thanksgiving and my Kiddo will get in on the action with the Kid K.
So, go on... earn that piece of pumpkin pie. :)